(Shortened Vietnamese version available)
KVT totally sold on the sounds made by Francesco Tristano.
Francesco Tristano, pianist extra-ordinaire, played twice in Hanoi this week.
Monday at the Opera House was a closed affair to celebrate the Duchy of Luxembourg's national day and I decided to beg, borrow or, if necessary, mug someone and steal their entry ticket because no music lover in their right mind would want to miss out on Francesco Tristano at the keyboard. Just as I was deciding on a victim along came the angel of clemency and offered me two.
The elderly tourist sitting next to me in the grand old house bought a freebie from a scalper on the front steps for 370 000VND and was wandering around inspecting the glories of the grand old building and came across a whole mob of poshed up dignitaries sharing drinks and canapés in the hall of mirrors and sort of melded in with them and had a fine time with fine wine.
Tuesday was more democratic and was a free event at CAMA'S delightfully grungy place, ATK, in Mac Hat De and where a few, like me, were excited about catching the pianist in his techno/trance – or whatever the cool and with it people call it – persona.
What a brilliant treat it was both times!
On Monday Tristano went back in time before the piano was born and, looking for all the world like a study from a renaissance painting, gave us, spellbindingly, 5 of Girolmo Frescobaldi's first set of twelve Tocattas composed in 1615, and five of Domenico Scarlatti's 555 Sonatas composed in the 1700′s, many of which would have been played on the first piano invented in 1731.
You'd probably describe Tristano as a modern Renaissance man, well educated, cultured, not content to stay in the past but wanting to learn from it and desiring to experiment with a whole range of musical genres through to exciting experimental species. And it's a renaissance type of concert that he's on tour with to various parts of the world that he played for us.
Tristano is famous for a whole range of classical interpretations on the piano not the least being Bach's Goldberg Variations for harpsichord. He started off as an enfant tres talented, publicly playing his own compositions at the age of 13. He's about 31 now but looks 20 on stage with his curly mop of hair dangling over a finely featured face that tops a tall and dangly body with long slender fingers that look as though they could easily cover the whole keyboard in one span. It's his own compositions that seem to be making him a name on the modern classical concert stage and it was these that got excited standing ovations on Monday.
We had to wait until he gave us Stravinsky's 'Tango' before we got into the first of these innovative pieces. Written in a desperate need for money when Igor was trying his luck in Hollywood in 1940, it was a good lead in to Tristano's latest work with its near constant syncopation in 4/4 time. It's my guess that Tristano is influenced by the minimalist, repetitive piano work of Erik Satie (died 1925) and by John Cage (died 1992) and how grand it would have been to hear the young pianist play Cage's 1948 'Sonatas and Interludes' for a prepared piano (a piano altered to play with bits placed between its strings). Tristano gave us a hint of this with his own fabulous 2000 composition, 'Tokyo-Beirut' and in his 'La Franciscana', composed this year with him standing, using the pedals, and leaning deep into the chamber of the piano to pluck and drum at the strings. This could make it a bit too difficult for short pianists to play his pieces as they'd probably fall into the cavity stretching from their tippy toes – and never be heard of again.
One of my favorite modern composers, Phillip Glass, was evoked in the circular type, minimalist playing (my inexpert phraseology) and Tristano even evokes images of Glass as a young man.
As a prelude to his next night's gig at ATK, Tristano played his own classical concert arrangement of 'Strings of Life' composed in the 1980's by another of his important influences, Derrick May. Brilliant stuff! Click to the links below to see and hear May's original work and Tristano's very fascinating tribute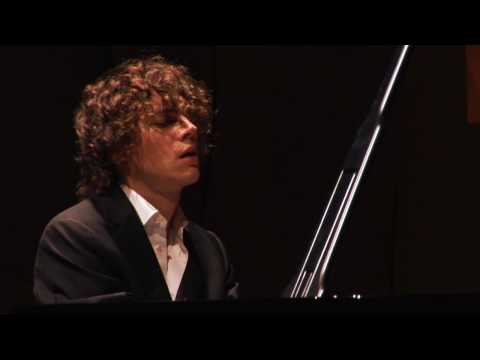 'Strings of Life' became anthemic in England's late 80′s rave scene.
May famously said that: 'I'm all for technology, for the future, but it doesn't have a creative agenda. We're becoming less creative.' and if he's talking about the pappy direction that a lot of techno dance music has mildewed into then I'd have to agree…. though a techno dance head I hear occasionally getting his rocks off to repetitive drum beats and waily wails would shake his head with disdain and probably pout 'who is Derrick May anyway!… and what would he know?!!' and ratchet the bass up a decibel or two.
A full house standing ovation led to a more subdued but no less brilliant encore and the promise of good stuff to come at ATK.
And extra good stuff it was!
A good crowd of young hip things through to oldies with wrinkles, couldn't help but move and groove to the synthetic sounds illustrated with those Cagey, Glassy, Satie keyboard repetitions that kept on getting brilliant and brillianter as the night grew longer until it just got too scintillating for words.
A lot of savvy aficionados…much more savvy and with it than I'll ever be…stood close and watched Tristano's laptop dancing with all sorts of digital beats and patterns, while some, like me, watched the keyboard and those expressive fingers with trance-like pleasure, occasionally glancing at the great graphics and images on the screen behind the musician/DJ's head. I thought that the reference to Duchamp's 'Nude Descending a Staircase' …then ascending then descending…was great.
Hopefully someone more articulate about the contemporary sound scene will write a more down to earth opinion bit about the night's music… all I can say is that I was totally wrapped up in it and also liked this You Tube link, one of many about Tristano's performances.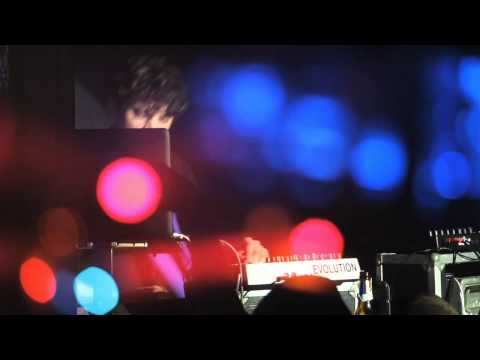 I'm indebted to the Luxembourgers who arranged for Francesco to include Hanoi on his concert tour and to CAMA for that extra session. Awesome!
Photo credit: Embassy of Luxembourg
Kiem Van Tim is a keen observer of life in general and the Hanoi cultural scene in particular and offers some of these observations to the Grapevine. KVT insists that these observations and opinion pieces are not critical reviews. Please see our Comment Guidelines / Moderation Policy and add your thoughts in the comment field below.