Posted: 13 Oct 2012. Filed under:
Music
.
Fri 26 Oct 2012, 7.30 pm
Hanoi Rock City
From The Onion Cellar:
Organized by The Onion Cellar in collaboration with Hanoi Rock City, MUSICK TO PLAY IN THE DARK is a carefully curated (and planned) concert dedicated to boundary-pushing experimental music and video art. The evening boasts a killer line-up of international luminaries, local pioneers and new faces – all set to challenge unsuspecting audience as much as to guide them into new, unexplored terrains.
BLACK ZENITH is the duo of Darren Moore and Brian O'Reilly – two lecturers atLASALLECollege of the Arts. Being both active members within Singaporean free jazz and avant-garde circles, Darren and Brian regularly collaborate with local contemporaries, crafting works for theatre, dance and installation productions. Between them, the two have also performed at prestigious festivals and events worldwide, such as the 2010 Montreaux Jazz Festival or the Autechre-curated All Tomorrow's Parties in 2003, and with the likes of Otomo Yoshihide, William Basinski, LASALLE's Head of Music Tim O'Dwyer, amongst others. As Black Zenith, the duo's unique take on Noise music and video art see them utilize analog modular synthesizers to build up dense sonic textures and abstract soundscapes, at the same time generating live visuals by transforming audio signals into images, resulting in intense AV sets that are sure to capture your attention (and breath).
http://black-zenith.tumblr.com/
VU NHAT TAN hardly needs any introduction. After years of leading the local experimental underground with various live appearances and releases spanning everything left-field (from minimal classical to spoken word drone), Tan shows no sign of slowing down. His recent works include The Song of Napalm and Cracking Bamboo – composed for and performed at the 2012 LA International New Music Festival by an 11-piece ensemble consisting of Western and traditional Vietnamese musical instruments, as well as Hanoi, Hanoi and Hanoi – an orchestral piece for the Vietnam National Symphony Orchestra. Tan currently hosts a monthly residency at ATK as Vu Nhat Tan Group – playing and improvising with a myriad of local like-minded musicians of all disciplines. This concert marks the second collaboration between Vu Nhat Tan and The Onion Cellar (after the We Don't Care About Music Anyway gigs / screenings), and like last time – he will be showcasing his noisy side here.
http://soundcloud.com/vunhattan
http://soundcloud.com/groups/vntg/tracks
Vũ Nhật Tân with Nguyen Manh Hung at Hanoi New Music Meeting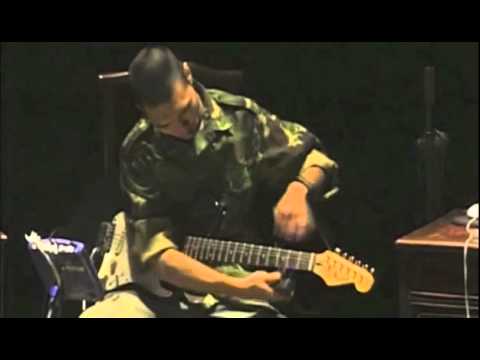 Bringing a feminine touch to the line-up, LUONG HUE TRINH's seamless blend of field recordings, ambient soundscape and traditional music offers a breathing space for the ears in between the night's sonic assaults – though not without a twist. Like a darker cousin of Sawako or Moskitoo, Trinh's music conjures up images of black rivers flowing through cities, of the little things in life that are lost and buried amidst the madness of urban chaos. Born in 1985 and graduated from theNationalMusicAcademy in Jazz Keyboard, Trinh has already matured beyond her years with recent highlights including a commissioned work for the Goethe Institut. The Onion Cellar is proud to present a rare live performance from this rather underrated yet promising artist.
http://soundcloud.com/huetrinhluong
JRG_ONE is Jackson Garland. He makes sounds. He makes videos. He teaches high school by day. He lives inHanoi with his wife and son and dog. He is a bit of a traveller who has lived in three continents. And not much else is known about the mysterious jrg_one, except that he makes awesome fuzzed-out electroacoustic dark-ambient-ish music that completely won us over upon our first listen (not to mention the intriguing space-post-noise-funk rock project he used to be in). Having spent years infiltrating the Chinese alternative sceneJackson will be having his debutVietnam performance at Musick To Play In The Dark, also showcasing his video works. Come say Hi to him.
Last but definitely not least, SEBASTIEN GESELL will once again take on DJ duty, providing the audience with refreshing dancing treats ('dance music' within an Onion Cellar context, of course) – pulsating beats and glitches and clicks and all. You might have been familiar with him from his clever DJ sets at our Simon Whetham concerts and a couple of other laid-back nights at ATK, but when it comes to this guy, you always better expect the unexpected.
https://www.facebook.com/sebastien.gesell
For more info and updates about the concert please have a look at www.facebook.com/theonioncellar
Entry: 100k @ Doors
Hanoi Rock City
27/52 To Ngoc Van, Tay Ho