Exhibition "Passage of Time" by Ha Manh Thang in Hongkong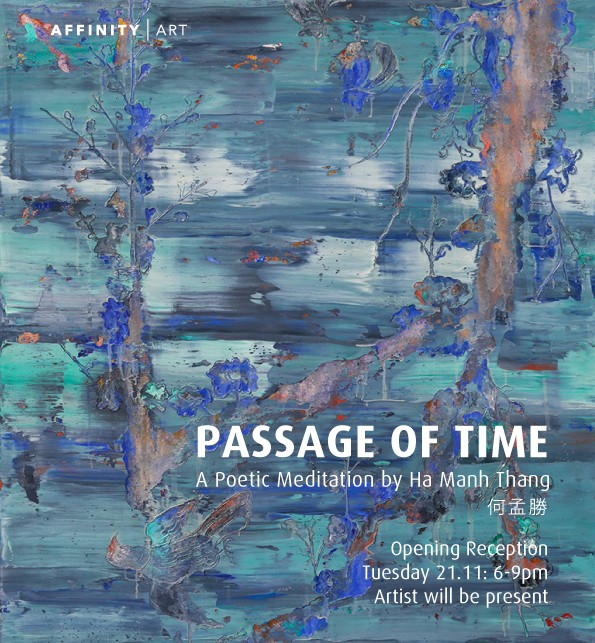 Opening: 21 Nov 2017, 6 – 9 pm
Exhibition: 21 Nov 2017 – 13 Jan 2018 (Tue to Fri 12.30 – 7 pm, Sat 12.30 – 5 pm)
Affinity ART gallery Hong Kong
1/F, 1 Queen's Road West, Sheung Wan, Hong Kong
From the organizer:
Affinity Art is proud to present "Passage of Time – A poetic meditation by Ha Manh Thang", the artist's first solo exhibition in Hong Kong. Two series will be showcased – "Circle of Time" – a new body of work set to investigate the spiritual and emotional significance of symbols found on antiques and "The Lake", a series which the artist reflects on of the effects of modernisation on culture, tradition and questions existentialism.
"The Circle of Time" is a natural extension of Ha Manh Thang's deep fascination for antiques.
When not painting, Ha may be found in antique shops around town or further afield, browsing
and searching for rare pieces. Objects and furniture pieces of a few hundred years old are
casually displayed in his French-style colonial home studio. These historical objects are integral part of the artist's daily life, becoming his immediate and constant source of inspiration.
In "The Lake" series, Ha Manh Thang continues his exploration on the phenomenon of
disappearing cultural values in the context of a modernizing Vietnam. His latest paintings use special canvases, the top portion is silk fabric and lower half is canvas. Whilst observing changing seasonal, weather and daily conditions and the effects they have on the water, Ha captures the lake in a constantly fluctuating state and creates a poetic visual metaphor alluding to the passing of time, the changing of states and ultimately questions non-existentialism.
In "Passage Of Time – A Poetic Meditation by Ha Manh Thang", the artist uses the juxtaposition of the traditional with contemporary elements to embody the perpetual dialogue between the symbolic representation of the past and the reality of the present, the passing of time and the poetic and spiritual search into one's soul.
Born in 1980 in Thai Nguyen Province, Ha Manh Thang is known as one of Vietnam's most important young painters. His bold and colorful painterly canvases juxtapose the country's past and its rich heritage with fashionable images of consumerist culture.